Booking Clinical Services
DOWNLOAD THE MINDBODY APP
Step 1
Download the MINDBODY App
To get started you'll need to download the MINDBODY App onto your device (available for both Apple and Android).
Once you've downloaded the app, go ahead and create an account.
If you have an existing MINDBODY account you can use this without the need to create a new profile.
To ensure you have the correct App, search for "MINDBODY Fitness" in your App store. 
Step 2
Locate Reform Studios on Your App
Now you're set up, you need to locate Reform Studios from the list of businesses. From the Home Screen, type Reform Studios in the search field at the top of your screen. Click Businesses below this to restrict your search. You may need to allow you phone to access your location. Scroll down until you find us in the list.
Click on Reform Studio and favourite us by clicking the ♡ symbol. 
1. HOW TO BOOK YOUR CLINICAL ASSESSMENT
STEP 1 - INITIAL ASSESSMENT
The initial assessment with the Exercise Physiologist is a 45-60min private consultation. Here you will have a number of areas of your mobility and overall fitness measured.
An Initial Assessment is mandatory for anyone wanting to proceed to clinical classes.  
STEP 2 - 'PLAN' ORIENTATION
You will then need a follow-up appointment where you will receive your personalised Plan to help achieve your new wellness goals. Your Exercise Physiologist will also take you through your Plan and how it should be correctly executed, including the proper form for any home-based or Pilates movements. 
A Plan Orientation is mandatory for anyone wanting to proceed to clinical classes. 
STEP 3 - CLINICAL CLASSES
For those wanting to join the Exercise Physiologist for the Clinical Classes, you may book these in via MindBody, after your two consultations have been completed. 
REFORM STUDIOS EXERCISE PHYSIOLOGIST - GEORGIA FERGUSON (Bachelor of Clinical Exercise Physiology with Hons)
What is an Exercise Physiologist?
An Exercise Physiologist (EP) is an allied health professional with extensive training in understanding the body's response to exercise. They are degree qualified and therefore have a deep knowledge of the human body and how movement, in particular, can influence someone's fitness. They approach assessments of someone's movement and overall fitness with the intended outcome of improving someone quality of life. Specific areas of assistance may include movement during pregnancy, injury, disease, pain and disability. 
Are They Different From Physiotherapists?
Yes. An EPs role is not to diagnose injury, nor to provide injury therapy (especially not the treatment of acute injury therapy). For any acute or chronic injury requiring diagnosis and associated treatment, we strongly suggest you see our in-house Physiotherapist - Chanda Patel (cards at reception). Chanda is a complex-pain specialists and has 16 years post Masters treating a wide range of complicated conditions in a clinical setting.    
How Are They Accredited?
Accredited Exercise Physiologists (AEPs) are university qualified allied health professionals equipped with the knowledge, skills and competencies to design, deliver and evaluate safe and effective exercise interventions for people with acute, sub-acute or chronic medical conditions, injuries or disabilities. Pathology domains covered by the services of AEPs include cardiovascular, metabolic, neurological, musculoskeletal, cancers, kidney, respiratory / pulmonary and mental health, and any other conditions for which there is evidence that exercise can improve the client's clinical status.
Exercise & Sports Science Australia is the peak professional body and sole accrediting authority for Accredited Exercise Physiologists. ESSA is also the accrediting body for Accredited Exercise Scientists, Accredited Sports Scientists and Accredited High Performance Managers.
To gain AEP accreditation with ESSA an individual must:
Graduate from a minimum 4 years of study in an ESSA accredited course meeting the AQF requirements for Level 7 that leads to bachelor degree qualifications
Meet the professional standards for exercise science, leading to accreditation as an Accredited Exercise Scientist (AES)*, including 140 hours of practical experience for the purpose of undertaking an exercise intervention to improve health and fitness, wellbeing or performance, or focus on prevention of chronic conditions
Meet the professional standards for exercise physiology, including 360 hours of practical experience with clients with clinical conditions (eg. cardiovascular, pulmonary, metabolic, musculoskeletal, neurological)
How Will They Help Me?
At Reform Studios we strive to offer our clients more than simply a place to exercise. We acknowledge that we are each unique, and carry with us various injuries and limitations to exercise. We also understand that finding and maintaining exercise for both prenatal and postnatal women is challenging. Whilst we work hard to accommodate everyone in our classes, we believe our clinical services offering, including clinical movement assessments, private clinical Pilates sessions and small group clinical classes, will provide a unique opportunity to tailor exercise to everyone. 
Having an EP on the team will enable everyone, not just those needing specialised care, but everyone currently attending group classes, to 'get the edge'. There are huge advantages of better understanding how you can work with a bad back, painful knees or neck-related headaches, the list goes on. You may find that the insights from your Clinical Assessment is sufficient to help you in your regular classes. Alternatively, you may choose to pop yourself into our small-group clinical classes, based on your new clinical 'plan'. Led by the EP, these classes with target your particular issue and provide you with lasting benefits and new knowledge you can transfer over to your regular group classes. 
Are These Services Claimable on My Private Health Insurance?
The short answer is YES!
As each insurance policy is different from the next, you will need to check with your provider as to whether Exercise Physiology is included in your extras cover, and what the limits are. Where your Private Health Insurance covers our services, we are able to process your rebate at the Studio on our HICAPS machine. This includes all services, including:
Private Clinical Assessments (must be conducted prior to any subsequent clinical services below)
Follow-Up Appointments (including Private Reformer Sessions)
Small-Group Clinical Classes
For those looking to join in on our pregnancy specific classes, you have two options here:
General Entry - if you have clearance to continue exercising throughout your pregnancy, you are welcome to join the class run by our Exercise Physiologist. These classes are covered under the general Clinical Class Packs (5 and 10 classes), and are valued at $35/class.
Clinical Entry - for those with Private Health Insurance cover for Exercise Physiology, you are welcome to purchase a Clinical Class pack (5 or 10 classes) which can be claimed in HICAPS only after an Initial Assessment and a Plan Orientation appointment have been completed. See the description in the STEPS ONE, TWO & THREE above.
Step 3
locate 'appointments'
In order to book into a private clinical assessment with our Exercise Physiologist you will need to locate the Appointments section with the MINDBODY App.
Our degree qualified Exercise Physiologist is accredited through Exercise & Sports Science Australia (ESSA), an association established in 1991 to maintain high standards of training and service delivery.  
If you would prefer to book an appointment over the phone, please call the Studio on 0403 680 374 and speak to one of our team.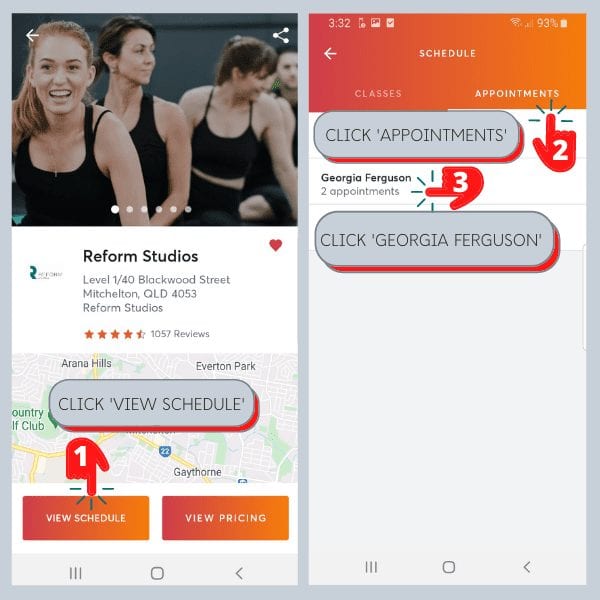 Step 4
Booking Via the App
Select Georgia Ferguson from the list of appointment types. 
You can then choose from either:
Private Clinical Assessment - a 45 minute appointment where Georgia will review your general fitness, including any movement patterns that may be contributing to any current exercise or movement problems. You will receive a tailored PLAN that you can then use to improve target areas, including during your Pilates classes.     
Private Pilates Session - a 45 minute tailored reformer or matwork Pilates session. This should only be booked after your initial clinical assessment. 
Click BOOK next to Georgia's name in order to see the available appointments.
YOU ARE NOT REQUIRED TO PAY ONLINE
Step 5
BOOKING VIA THE APP (CONT)
Georgia has specific booking windows that are available, including weekends. Select a day from the calendar page (1)  and you will see the induvial booking slots available (2).
If none of these time are suitable, please let the team know and we will do what we can to accommodate you at a more suitable time. 
INITIAL CLINICAL ASSESSMENTS ARE $110 (60 min) includes PLAN
A subsequent appointment is $110 (60 min)
A Private Pilates session is $80
CLAIMABLE ON SOME PRIVATE HEALTH INSURANCE
Rather Book on Your PC?
For anyone who would like to book via the full MINDBODY website, you can login below to our appointments area, or click the button below to navigate to a full screen version. 
If you are experiencing technical issues with the App, try booking via the schedule below. If the schedule does not load on your device after a few moments, try clicking on the 'full screen' option above. 
2. BOOKING SMALL GROUP CLASSES
CLINICAL CLASSES
Georgia will soon be offering small group clinical classes on Tuesday evenings and Saturday mornings. You will be following your individualised plan based on your clinical assessment. 
Check with your Health Insurance provider as to whether your Private Health Insurance covers Exercise physiology, as you may be entitled to claim a rebate on HICAPS.
CLINICAL CLASSES ARE PRICED AT $35/class AND WILL INCLUDE:
PREGNANCY 
GENERAL CLINICAL (ALL CONDITIONS)
CLASS PACKS OF 5 AND 10 ARE NOW AVAILABLE
YOU MUST HAVE COMPLETED A PRIVATE CLINICAL ASSESSMENT TO BE ELIGIBLE FOR CLINICAL CLASSES